Please enter exact key words
Overview
Key technology
Pipeline
Indication
Status
| | |
| --- | --- |
| Description | A newly established biotechnology company aims to accelerate patient access to transformational immunotherapies, addressing several of the most challenging unmet medical needs in metastatic solid tumors and rare hematological malignancies. |
| Key technology | The company focuses on T cells and Natural Killer (NK) cells, and is leveraging multiple advanced technologies, including human Ig transgenic (Tg) rodent derived fully human antibodies, NK cell engager bispecific antibodies, and multi-functional tri-specific antibodies. |
| Pipeline | A diversified pipeline unlocks the full power of immune cells to defeat cancers. |
| Indication | Hematologic malignances; solid tumors |
| Status | Therapeutic programs for single and/or combo therapy are expected to file patents starting 2021H1. |
Collaboration Opportunity
Protheragen Inc. is actively seeking partners and investment for this company to advance the core products.
State-of-Art Multi Specific Antibodies
Bispecific NK cell engagers targeting a specific tumor antigen while leveraging the power of the innate immune system (NK Cells);
Tri-specific antibodies blocks PD-L1 interactions with PD-1, internalizes sequestered inhibitory cytokines to unlock the inhibition of multiple immune cells, e.g. T cells, NK cells, dendritic cells (DCs) and macrophages, attracts and proliferate professional cytotoxic tumor killing T cells and NK cells.
Diversified Pipeline
To overcome the limitations of traditional therapies, multiple approaches were developed to unlock the power of immune cells to fight cancer. A number of programs are ongoing, focusing on the treatment for hematological malignancies and solid tumors.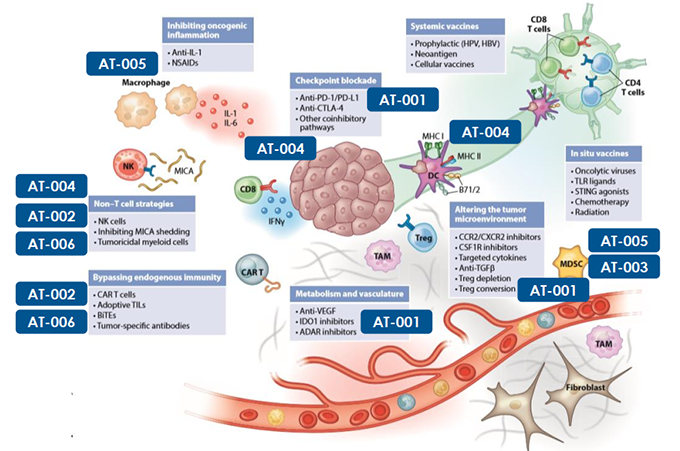 Hematologic Malignances & Solid Tumors
The initial product portfolio focuses on both hematological malignancies such as cutaneous lymphoma (a rare subtype of non-Hodgkin lymphoma that starts in the skin) and solid tumors including triple negative breast cancer, ovarian, colon, kidney, renal and pancreatic cancers.
| | |
| --- | --- |
| Hematologic Malignances | Hematologic malignancies most often begin in the bone marrow where blood is produced and when uncontrolled growth of abnormal blood cells overtakes the development of normal blood cells and interferes with the regular functions of these cells. Hematologic malignancies fall into three categories: leukemia, lymphoma, and myeloma. Non-Hodgkin lymphoma is the most common hematological malignancy, although it is nonetheless a rare disorder, accounting for less than 2% of all cancers. As the second most common hematological malignancy, there were an estimated 427,400 prevalent cases of multiple myeloma worldwide in 2013, according to the Global Burden of Disease (GBD) 2013 study. |
| Solid Tumors | Solid tumors represent approximatively 90% of human cancers. They can be either benign or malignant and develop in many parts of the human body, including breast, lung, prostate, colon, melanoma, bladder, and kidney. According to global cancer statistics in 2018, the most common cancer in the world is lung cancer and followed by female breast cancer. The third and fourth most common cancers are prostate and colorectal cancers, respectively. |
Surgery, radiation, and chemotherapy are the traditional treatments for cancers. Immunotherapy is a rapidly growing field that aims to enhance the immune system's ability to eradicate tumors. One of the immunotherapies is immune effector cell retargeting for achieving anti-tumor activity.
Present Status and Future Development
Experienced Industrial Team in therapeutic antibody drug R&D.
Proprietary Global Leading Antibody Discovery Technologies.
Two state-of-art bispecific and tri-specific antibody technology platforms to unlock the full power of immune cells.
Multiple Hematological & Solid Tumor Therapeutic Programs for single and/or combo therapy with checkpoint blockade, expected to file patents starting 2021H1.
World Class Partnership with human Ig Tg rodent companies.
Our customer service representatives are available 24 hours a day, from Monday to Sunday

Protheragen's business is growing rapidly after founded in New York. Our business has evolved from the initial intermediary service to encompass segments in equity investment and program incubation.
| | |
| --- | --- |
| | Protheragen Inc. |
| | |
| --- | --- |
| | Quick Links |