Solid Tumor
Solid tumors are abnormal mass of tissue that usually does not contain cysts or liquid areas. Solid tumors may be benign or malignant. Different types of solid tumors are named for the type of cells that form them, such as breast cancer. Cancer deaths are projected to rise, with an estimate of 11.4 million people dying from cancer in 2030.
The best strategy for fighting cancer is to reduce cancer risk. Nevertheless, even if applying all that are known so far about cancer prevention, one out of four cancers would still occur. Because of this, therapies that target malignancies after they have developed will continue to be important for some time to come. The most commonly used treatment modalities of cancer include some combination of surgery, radiation therapy, and chemotherapy. The best approach to treating cancer provides a balance between therapeutic effectiveness and minimization of treatment-associated side effects.
The global market for solid tumor treatment was estimated at $121.3 billion in 2018 and is expected to reach $424.6 billion by 2027, expanding at a CAGR of 15% from 2019 to 2027.
Hematologic Malignancies
Hematologic malignancies are cancers that affect the blood, bone marrow, and lymph nodes. This classification includes various types of leukemia, myeloma, and lymphoma.
Leukemia is a heterogeneous class of malignant diseases of the bone marrow and blood that is characterized by the uncontrolled proliferation of undifferentiated hematopoietic cells. According to Globocan data for 2018, the global incidence of leukemia was 437,033 in 2018, and the number of deaths worldwide due to leukemia was 309,006.
Lymphomas is a class of hematologic malignancies originating in lymphocytes, typically in lymph nodes. Lymphomas are subdivided into two major categories: Hodgkin's Lymphoma (HL) and non-Hodgkin's lymphoma (NHL). The latter accounts for approximately 90% of all lymphomas. In 2018, the International Agency for Research on Cancer (IARC) estimates that there were 284,713 cases of NHL diagnosed in men and 224,877 in women worldwide.
Myeloma is a B cell-dependent hematological malignancy caused by excessive clonal proliferation of terminally differentiated plasma cells in bone marrow. According to the Global Burden of Disease study, approximately 154,000 new cases of multiple myeloma were diagnosed worldwide in 2015 and an estimated 101,100 deaths.
The global therapeutics market size of hematologic malignancies was valued at $40.4 billion in 2017 and is anticipated to reach $87.0 billion by 2025.
Counteracting the Inhibitory Activity of LAG3 to Enhance T Cell Activation Against Tumor Growth
LAG3 is a surface molecule located closely to CD4. The human LAG3 gene is 20% identical to the human CD4 gene. Like CD4, LAG3 binds to major histocompatibility complex-II (MHC-II) on antigen-presenting cells (APCs), but with stronger affinity. LAG3 interacts with MHC-II to inhibit the binding of the same MHC molecule to TCR and CD4, thus directly hindering TCR signaling in immune response. Crosslinking of LAG3 and CD3 can impair T cell proliferation and cytokine secretion by inhibiting calcium ion fluxes. Besides, the LAG3/MHC-II interaction may also act as bidirectional inhibitory signaling shared by immune cells and tumor cells. Meanwhile, LAG3-expressing Tregs may utilize an immune tyrosine-based activation motif (ITAM)-modulated suppressive signaling pathway to indirectly inhibit the function of dendritic cells.
Based on the immunomodulatory role of LAG3 on T cell function in cancer, anti-LAG3 mAb binds to LAG3 to block the interaction between LAG3 and MHCII for removing LAG3 mediated T cell inhibition. Activating T cells and enhancing cytotoxic T-cell-mediated tumor cell lysis leads to a reduction in tumor growth.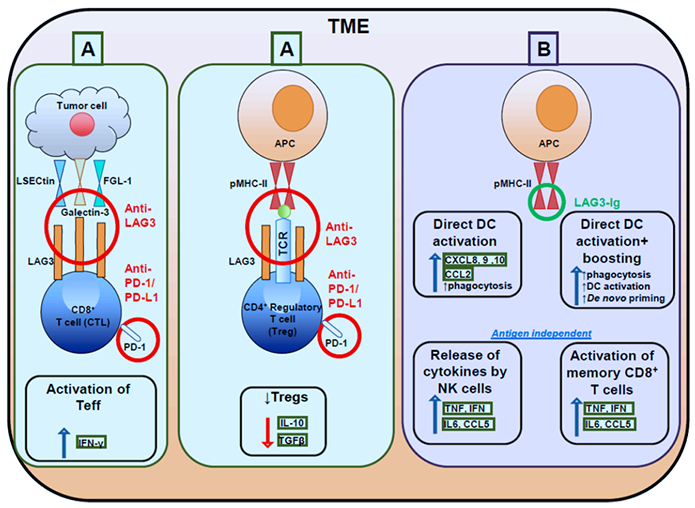 Figure. Targeting effector and regulatory T cells with LAG3 antagonistic antibodies and
activating antigen presenting cells with soluble LAG3-Ig
Cancers (Basel). 2019 Aug; 11(8): 1213.