RP215-CAR-T is a chimeric antigen receptor (CAR) T cell technology developed based on a monoclonal antibody, RP215, which reacts specifically with cancer specific CA215 antigen. CA215 is a carbohydrate-associated epitope located on the heavy chains of immunoglobulins which are expressed on the surface of almost all cancer cells, including those from the ovary, cervix, lung, and liver. In contrast to cancer expression, on the immunoglobulins secreted by normal immune cells, CA215 is absent, making CA215 an ideal tumor specific antigen (TSA) for CAR-T design.
The monoclonal antibody against CA215 was designated RP215, which has been engineered into a novel generation of CAR construct with an improved design of co-expression of recombinant cytokine. RP215-CAR is able to target CA215 via scFv of humanized RP215, activate T cells via intracellular signaling domains, and regulate T cell response via cytokine element. In preclinical studies, RP215-CAR T cells target cancer cells specifically and induce strong apoptosis and cell lysis in these cells, indicating therapeutic potential for treatment of a wide variety of cancers, especially cancers of the ovary and lung.
Status
Preclinical studies of RP215-CAR-T cells have proved specific targeting of various types of cancer cells with expression of CA215, and effective cell lysis was induced in these cells.
Mechanism of Action
RP215-CAR is a novel generation of chimeric antigen receptor, encompassing elements for cancer cell targeting, T cell activation and T cell regulation.
For RP215-CAR-T cell generation, T cells from patient are isolated, modified with RP215-CAR, and expended. The RP215 (scFv) portion of CAR enables T cells to target CA215 on cancer cells, the costimulatory factors activate T cells, and the recombinant cytokine regulates T cells for persistent efficiency. The RP215-CAR-T cells thus exert enhanced cytotoxicity functions and induce apoptosis and cell lysis in cancer cells.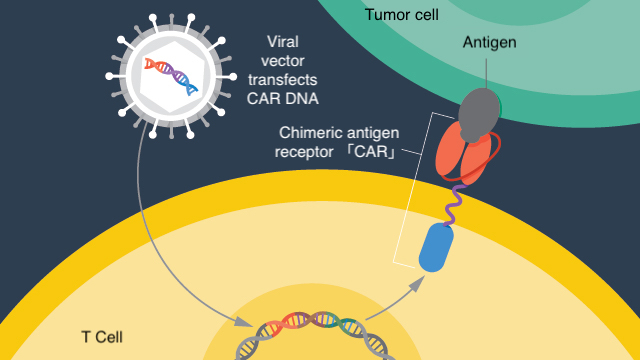 Seek Cooperation
Protheragen is looking for licensing opportunity by potential partners including major pharma or biotech firms. This business strategy will enable us to proceed through IND from FDA and go beyond various stages of clinical trials.
If you are interested, please feel free to contact us so we can discuss more on this technology as well as other possible partnering opportunities. Look forward to cooperating with you in the near future.
Our customer service representatives are available 24 hours a day, from Monday to Sunday