GHR106-CAR-T is a chimeric antigen receptor (CAR) T cell technology developed based on a patented monoclonal antibody, GHR106, which targets specifically at the extracellular domain of human gonadotropin releasing hormone (GnRH) receptor. GnRH receptor is abundantly expressed on the surface of most cancer cells, and has been demonstrated a potent target for anti-cancer treatment. Following years of R&D work, GHR106 was successfully engineered and constructed into a novel chimeric antigen receptor (CAR), which enrolled efficacy-and-safety-proved co-stimulatory elements and a co-expressed recombinant cytokine, which is important for T cell regulation. GHR106-CAR is able to target GnRH via scFv of humanized GHR106, activate T cells via intracellular signaling domains, and regulate T cell response via cytokine element. In preclinical studies, GHR106-CAR T cells display strong anti-cancer effect in various types of cancer cells, indicating therapeutic potential for treatment of a wide variety of cancers, especially cancers of the ovary, prostate and pancreas.
Status
Preclinical studies of GHR106-CAR-T cells demonstrate specific targeting of various types of cancer cells which express GHR106 and effective cell lysis in these cells.
Mechanism of Action
GHR106-CAR is a novel generation of chimeric antigen receptor, encompassing elements for cancer cell targeting, T cell activation and T cell regulation. Equipped with GHR106-CAR, human T cells from PBMC (peripheral blood mononuclear cell) obtain capacity of cancer cells targeting with scFv of GHR106 that binds specifically to GnRH receptors on the surface of various cancer cells. After binding to GnRH receptors, the costimulatory factors on the GHR106-CAR activate T cells, which consequently lyse the cancer cells. To maintain the cytotoxicity of GHR106-CAR-T cells, a recombinant cytokine is co-expressed, which function as a regulator of T cells. Thus, the engineered T cells exhibit prolonged cytotoxicity and induce apoptosis and cell lysis in cancer cells.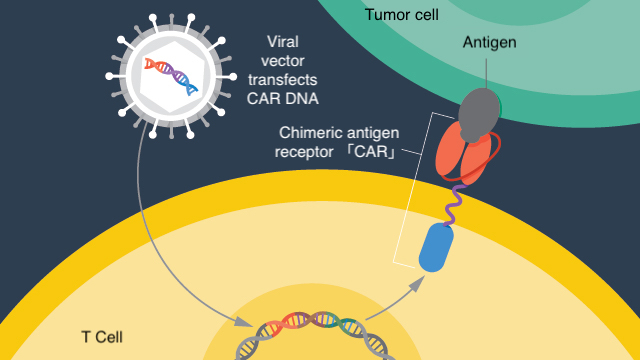 Seek Cooperation
Protheragen is looking for licensing opportunity by potential partners including major pharma or biotech firms. This business strategy will enable us to proceed through IND from FDA and go beyond various stages of clinical trials.
If you are interested, please feel free to contact us so we can discuss more on this technology as well as other possible partnering opportunities. Look forward to cooperating with you in the near future.
Our customer service representatives are available 24 hours a day, from Monday to Sunday