| | |
| --- | --- |
| Drug Name | R491 |
| Description | R491 is a novel small molecule discovered via phenotypic screening. It binds specifically to vimentin. As the most widely distributed intermediate filament protein, vimentin provides cells with mechanical resilience, which is also used by pathogenic cells in diseases. R491 binding to vimentin reduces the flexibility of vimentin intermediate filament and triggers an altered intracellular organization of the filament. |
| Target | Vimentin |
| Drug Modality | Small molecule |
| Indication | Autoimmune diseases; cancers; tissue fibrosis; viral infection |
| Product Category | New molecular entity |
| Mechanism of Action | Activating Treg cells; blocking cancer exosomes; inactivating fibroblasts; inhibiting endocytosis and endosomal trafficking |
| Status | IND-enabling studies have been completed. |
| Patent | Patents are granted in the US and Russia, pending in China, Japan, Europe, and other major markets. |
Collaboration Opportunity
Protheragen Inc. is actively seeking partnership for R491. Potential collaboration can be strategic alliance, licensing, or marketing agreement.
We look forward to hearing from you.
Vimentin
| | |
| --- | --- |
| Introduction | Vimentin is one of the most widely expressed and highly conserved proteins of the type III intermediate filament protein family. Intermediate filaments, along with microtubules and actin microfilaments, make up the cytoskeleton. The encoded protein is responsible for maintaining cell shape and integrity of the cytoplasm, and stabilizing cytoskeletal interactions. This protein is involved in neuritogenesis and cholesterol transport and functions as an organizer of several other critical proteins involved in cell attachment, migration, and signaling. Bacterial and viral pathogens have been shown to attach to this protein on the host cell surface. |
| Approved Name | Vimentin |
| Official Symbol | VIM |
| Gene Type | Protein coding |
| Ensembl | ENSG00000026025 |
| Gene ID | 7431 |
| mRNA Refseq | NM_003380 |
| Protein Refseq | NP_003371 |
| OMIM | 193060 |
| UniProt ID | P08670 |
| Chromosome Location | 10p13 |
Clinical Resources
Gene Function

Vimentin is the sole intermediate filament characteristic of mesenchymal cells and present in virtually all sarcomas and melanomas and variably in lymphomas. Vimentin has been used as a sarcoma tumor marker to identify mesenchyme.

Methylation of the vimentin gene has been established as a biomarker of colon cancer. Statistically significant levels of vimentin gene methylation have also been observed in certain upper gastrointestinal pathologies.

Pathway
Apoptotic execution phase, ERK signaling, cytokine signaling in immune system, cytoskeleton remodeling neurofilaments, etc.
Major Conditions
Cataract; carcinosarcoma; clear cell ependymoma
Small Molecule
Through extensive studies on mechanism of action, target engagement and biological actions in vitro and in vivo, R491 is a first-in-class compound that binds specifically to vimentin.
● Specific binding site
● Potent therapeutic effect
● Rapid and reversible mechanisms of action
● Wide safety window
Fibrosis
Fibrosis is the formation of fibrous connective tissues in response to injury, and its continued activation is highly detrimental. Fibrotic diseases cause over 800,000 deaths per year worldwide, accounting for approximately 45% of total deaths. The incidence of fibrotic disease and subsequently, the number of fibrosis-related deaths will increase substantially with the problem of a continued ageing world population.
Fibrotic changes can occur in various vascular disorders, including cardiac disease, cerebral disease, and peripheral vascular disease, as well as in all the main tissues and organ systems, including the skin, kidney, lung, and liver. In these epithelial organs, the replacement of normal functional units of cells with collagen-rich scar tissue and the architectural distortion caused by scar retraction are major factors in progressive loss of organ function and eventual failure.
Although fibrosis is a well-recognized cause of morbidity and mortality in a range of disease states, there are currently no viable therapies to reverse the effects of chronic fibrosis.
Coronavirus Disease 2019 (Covid-19)
SARS-CoV-2 was characterized as a beta-coronavirus and recognized as the seventh discrete coronavirus species capable of causing human disease. The disease caused by the virus was officially named coronavirus disease 2019 (Covid-19) by WHO. According to the WHO, as of October 4, 2020, more than 34.8 million laboratory-confirmed cases of Covid-19 had been diagnosed and reported worldwide. Also, as of this date, WHO had confirmed more than one million deaths from Covid-19 worldwide.
Person-to-person transmission of SARS-CoV-2 is primarily via inhalation of suspended respiratory droplets, i.e., secretions (> 5 mcm) generated when an infected individual coughs, sneezes or speaks, or through direct contact with an infected patient.
As the number of people affected by the Covid-19 pandemic steadily multiplying and with a lack of virus-specific therapies, various host-directed therapies are investigated to treat the most seriously ill patients, such as nutritional interventions, immunoenhancing agents, convalescent plasma, and traditional Chinese medicine.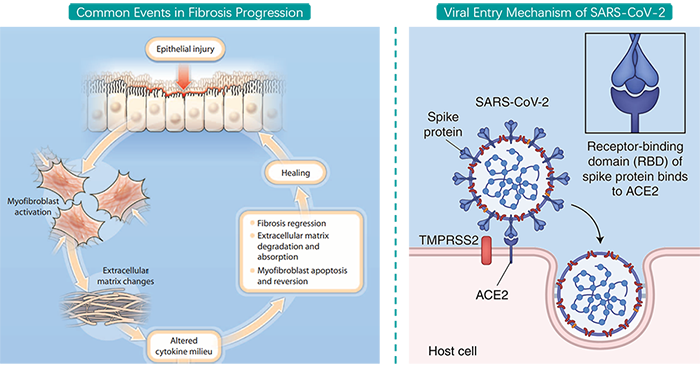 Figures from Sci Transl Med. 2013 Jan 9;5(167):167sr1. and Nat Med. 2020 Jul;26(7):1017-1032.
Changing the Dynamic Nature of Vimentin
As a most widely distributed intermediate filament protein, vimentin plays an important role in stabilizing intracellular architecture. At cellular level, vimentin is implicated in cell proliferation, stiffness, adhesion, migration, differentiation, senescence and apoptosis, which is taken advantage of by pathogenic cells in diseases. Vimentin also functions in inflammation and immune responses, as well as in the epithelial to mesenchymal transition (EMT). In addition, vimentin has been shown to be implicated in the processes of virus fusion, replication, assembly, binding and entry.
Thus, vimentin is proposed as a potential therapeutic target in fibrosis diseases, virus infection and cancer treatment.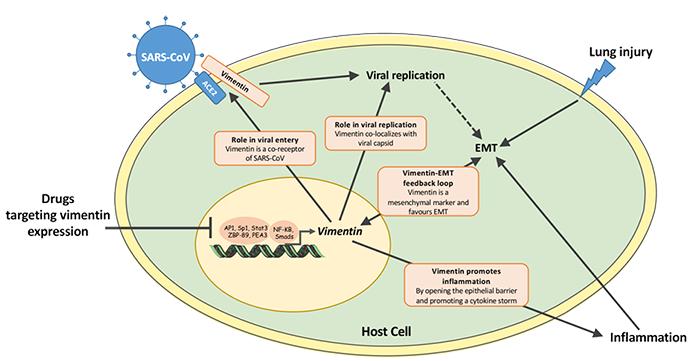 The figure from BMJ Open Resp Res 2020;7:e000623.
R491 is a small molecule binding to vimentin to reduce the flexibility of vimentin intermediate filament, accompanied by:
● Direct activation of Treg cells, which suppresses overreacted immune system.
● Blockade of cancer exosome release, which hinders the communication of cancer cells with normal cells and impedes the formation and the maintenance of tumor microenvironment.
● Inhibition of endocytosis and endosomal trafficking, which interrupts the entry, trafficking, and egress of viruses, such as SARS-CoV2, that use these cellular processes for successful infection.
● Inactivation of fibroblasts, reduction of collagen production, and stimulation of reabsorption of already-deposited collagen, which address multiple pathogenic processes of tissue fibrosis.
IND Filing
IND-enabling studies of R491 including GLP toxicity studies in rats and dogs have been completed. IND filing and Phase 1 clinical trial are being prepared.
Patents have been granted in the US and Russia, pending in China, Japan, Europe, South Korea, Canada, Mexico, Brazil, Australia, India, Singapore and HK.




Efficacy of R491 in EAE Model

C57BL/6 mice were immunized by MOG35-55 peptide to induce experimental autoimmune encephalomyelitis (EAE) model. Vehicle control (G2), positive control (G3), low-, mid-, or high-dose of the test article R491 (G4, G5, G6) was administered orally in EAE mouse model once per day until euthanasia.

The results of clinical EAE scores showed that R491 at low dose significantly inhibited EAE development and progression, compared with vehicle control. The U-shaped dose-response relationship of R491 can be used to guide the dose design of clinical trials.




Efficacy of R491 in Inflammatory Bowel Disease Model

Male SD rats were treated with 2,4,6-Trinitrobenzene sulfonic acid (TNBS) to induce acute colitis. Histological assessment of colitis showed that the colon ulcer area of R491-treated group was lower compared to that of Prednisolone-treated group.